What Are the Features of Fotor's Color Splash Effect?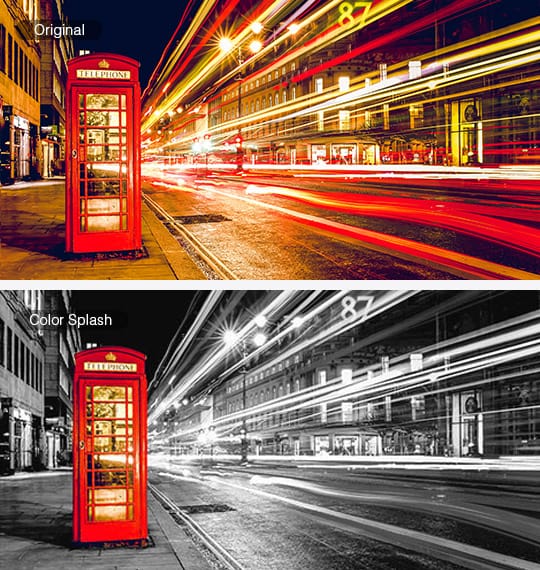 Highlight or change color of your photos with color splash

Whether you're adding some simple color splash effects or just looking for a simple color editor, Fotor is your one stop shop! Color splash online has never been easier with this awesome color changer and designer!

Easy-to-splash colors in photos

Fotor's color splash effect provides you with so many magic splash color choices online. Choosing a splash color topic, your picture will automatically change into black and white like a vintage photo. Then, you can adjust the brush size to splash the color easily onto the image or use "Intensity" to decrease the color.

Free to edit your photo with color splash effect

Fotor's color splash effect is a free function. Do not worry about buying a pro account to use it. With Fotor's free color splash photo editor and fully using the colorful splash properly, you will create outstanding images in just a few clicks.
Reach Creative Perfection with Fotor's Color Splash Effect!
How to Add the Color Splash Effect to Your Photo?
1

Choose and open the photo you wish with Fotor.

2

Apply the Color Splash effect, choosing the most important parts of your image to highlight. And use "Brush Size" to splash the photo's original colors onto your photo, or you can use "Intensity" to decrease the color.

3

Apply other effects in combination with Color Splash to get some truly incredible results.

4

Save your finished work, choosing the size and format of the save file.
Frequently Asked Questions
What does color splash mean?
Color splash is the magical art of color in the photo. Converting the image into black and white, while maintaining your chosen details in color to make it come alive. This effect has been used in many situations as a way to emphasize, such as film, TV, and photos.
How do you splash color on photography without Photoshop?
No Photoshop skills are required as long as you use the color splash photo editor – Fotor. The only things you need to do is upload your image and choose the color splash effect, use "Brush Size" to paint the colors. You can finish it in a few clicks without Photoshop.
How do you use the color splash effect?
Fotor is a good platform for you to play with colors in your photos,
1. Open Fotor and click the "Edit a Photo".
2. Open the "Effect" menu on the left dashboard, click "Color Splash".
3. Choose one splash color you like and click "Brush Size" to splash the area you want colored in your image.
4. Click "Apply" and Save it.
Fotor is not just providing the best color splash photo effects
The best free online color splash photo color changer
Now you can easily have professional color splash effect free online without using photoshop! Fotor's color splash effect allows you to change part of the image color to black and white while still maintaining and further optimizing the rest of the picture! Color splash photo editing will help you make awesome photos and shine on social media!